Neutrient D3 + K2
Vitamin D & Vitamin K Oral Spray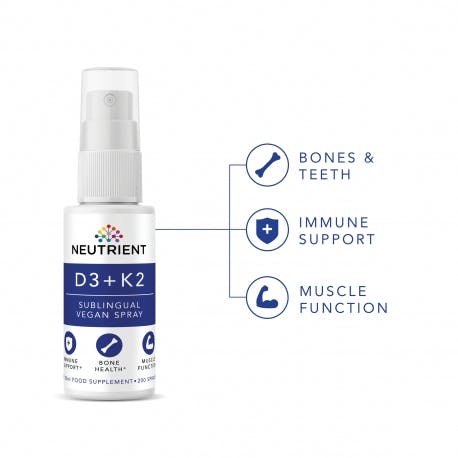 Independent Feedback based on 16 verified reviews.
65734bbce4b0d1131dc5b085
1
3
5
Feefo Holdings Ltd
Feefo
https://www.feefo.com/
As stated still awaiting communication from the company as regards my refund, poor communication.
6560d04fe4b0184d2149c6b3
1
3
5
Feefo Holdings Ltd
Feefo
https://www.feefo.com/
One of the items i ordered not working, so will need a replacement, as mentioned above.
65466382e4b0d5c2a50afbf8
1
5
5
Feefo Holdings Ltd
Feefo
https://www.feefo.com/
Great clean product only started using it
---
Q. What's the best way to supplement with vitamins D and K?
A. As these vitamins are both fat-soluble the best forms of supplements are oral sprays. Apply the spray underneath the tongue or on the inside of the cheek to ensure the nutrients are readily absorbed through the soft tissue inside the mouth and delivered to the blood system. Always take away from food.
Q. How much vitamin D is the UK government now recommending?
A. Public Health England recommend that everyone needs an average daily intake of 10mcg (400 IU) to support bone and muscle health. During autumn and winter when people must rely on dietary sources of vitamin D it may be difficult to meet the 10mcg a day and people should consider taking a daily supplement containing at least 10mcg vitamin D.
Q. Is it safe to take 2000 IU of vitamin D?
A. Studies have shown that up to 10,000 IU a day is well-tolerated by healthy individuals and for intakes at this level or lower there is no known concerns.
Q. Are there reasons not to take vitamin D supplements?
A. If you suffer from high calcium levels or have a history of kidney stones or kidney disease, then you need to consult your doctor before supplementing with vitamin D.
Q. Can I take vitamin K I am taking anticoagulant medications?
A. If you are taking anticoagulant medication or treatments, you should not take vitamin K without talking to your doctor first.
Q. How many sprays are in one bottle of Neutrient D + K and how long will it last?
A. The recommended dose is two sprays a day and there are 200 sprays in a bottle. It will last approximately 3 months for an adult.
Q. What is the source of vitmain D3 in Neutrient D3+K2?
A. Neutrient D3 + K2 contains a natural plant source of vitamin D3 extracted from a unique oily extract from lichens, which is naturally rich in cholecalciferol also known as vitamin D3. Lichens are small unique plants that share similar characteristics to fungus and algae and have adapted to thrive in extreme climates by developing the ability to grow and accumulate meaningful levels of useful nutrients including vitamin D3 (cholecalciferol).
There are hundreds of different species of lichen but the vitamin D3 found in Neutrient D3 + K2 is extracted from a carefully selected lichen strain following extensive research and development into natural plant sources of vitamin D3. This specific strain of lichens grows incredibly slowly so sustainability is important. Our vitamin D3 is extracted from lichen produced on sustainable growing sites, under organic conditions without the use of pesticides, to provide a pure, quality and highly absorbable source of vitamin D3.
Shake bottle, spray onto insides of cheeks.
Adults 2 sprays daily, children (from age 7) 1 spray daily, or as directed by a health care professional.
Do not exceed recommended dose.
INGREDIENTS: Natural carrier oil (MCT oil), antioxidant (D-alpha tocopherol), cholecalciferol (vitamin D3), menaquinone-7 (vitamin K2).
Each bottle provides 200 sprays.
2 x sprays typically provides:
NRV%*
Vitamin D3
2000 IU
1000
Vitamin K2
50μg
66
*Nutrient Reference Value.
CAUTION: If you are taking anti-coagulants (blood thinners) do not take this product. If pregnant, breastfeeding, taking medication or have a medical condition, consult a doctor before use. Food supplements are not a substitute for a varied diet and healthy lifestyle.
STORE: In a cool dry place away from direct sunlight. Use within 6 months of opening. Keep out of sight and reach of children.
Does not contain: Alcohol, GMO, Dairy, Sugar, Gluten, Soy, Palm oil, Vegan Friendly